Navigation:
Home
> Tom Ranch - Testimonials
Tom Ranch - Testimonials
Here's what a few of our customers have had to say about us. Have a testimonial of your own to share? Click Here fill out our short testimonial form.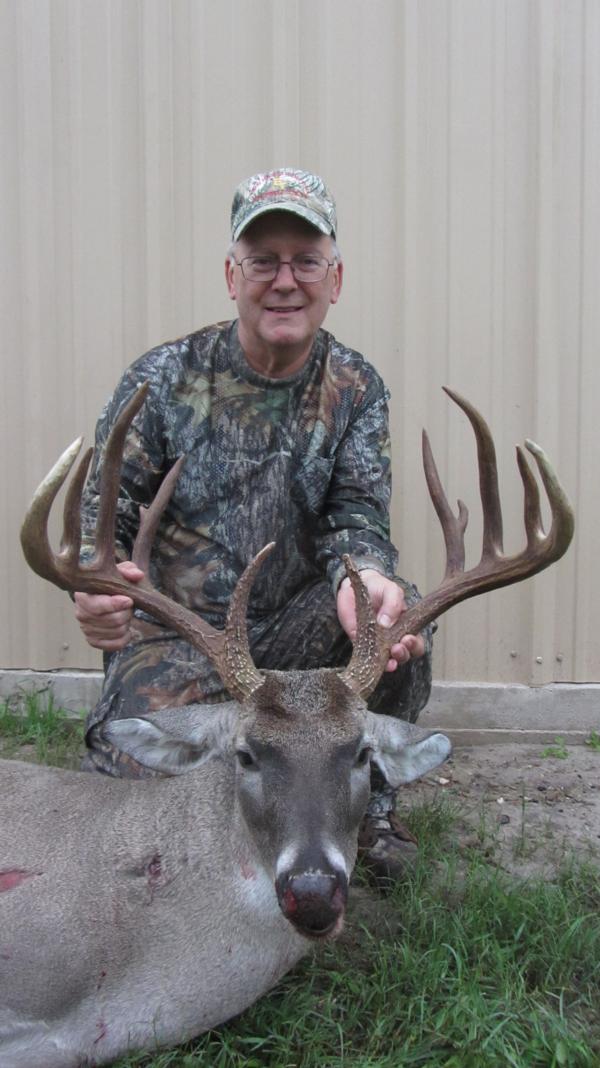 Chris Cooper
2006-present - Plano, Texas
I first began hunting at the Tom Ranch in 2006, and this year made 8 hunts in 9 years. It seems that I enjoy myself more each year. This year the Tom family completed a new lodge, and it is fantastic! The stands are good, the food is good, the deer are plentiful and the antlers get better every year. J Pat is working hard to improve the quality of the herd, and it is paying off. I bet that some real bruisers will be taken in the next few years. The friendships that I have formed with Kenton and the Tom family are perhaps the biggest reason I return every year. They make me feel welcome and at home, and I look forward to spending time with them. I would recommend the Tom Ranch to anyone looking for a great deer hunt with good people. If you have never hunted deer in south Texas, heed the advise that Edmund Tom gave me before my first hunt at the Tom: Don't shoot the first buck you see, there are bigger ones out there!
Keith Rex - San Antonio, Texas
This was my 4th trip and it just doesn't get better! They take care of the facilities, the improvements in the facilities, and the game animals just keep getting better. I won't hesitate to recommend this ranch to anyone – it's a great place to hunt from management animals to trophy class. Good Luck Everyone!
Bill Walpole - Rock Tavern, New York
I had the hunting time of my life at this ranch, the deer plenty. I saw turkeys and hogs all around the last 2 days, and after my first shot at a hog, the place exploded with hogs running in all directions from under the brush. Edmund and J.Pat really went out of the way for us. This ranch is so good, we extended our stay! We had a great time and will return again this year.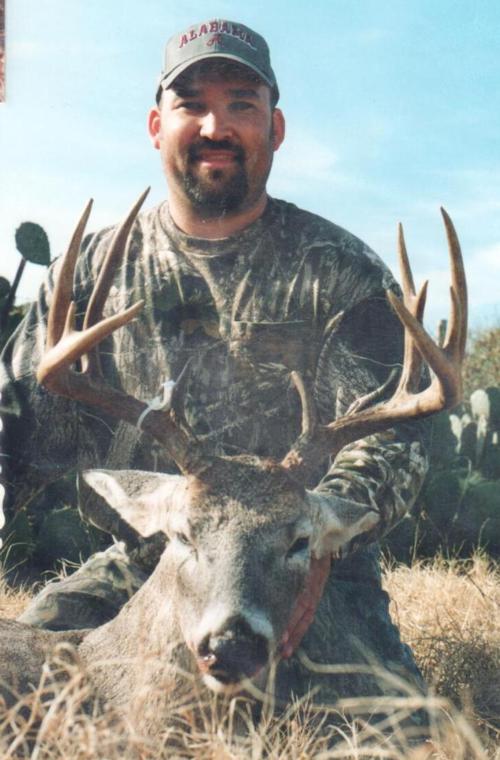 Stephen White - Boaz, Alabama
I would like to thank the ET Ranch for giving me an unforgettable week of hunting! The Tom's are down to earth people with pleasant attitudes that make your hunting very enjoyable. Mr. Tom sure knows how to cook over Texas mesquite. The ribeyes were awesome and the wild game night was outstanding! J.Pat has to be part blood hound because he can sniff the deer out, on an afternoon hunt I could see more than fifty deer from the stand I was in, WOW! I can't wait until next year to join up with the ET Ranch for some more exciting hunting.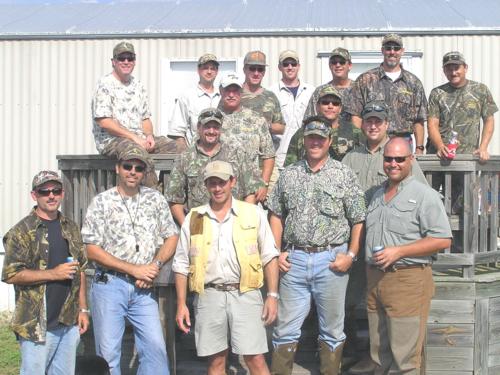 Richie Miller - Houston, Texas
Hunting at the Tom's the last 17 years has been a memorable experience. We have grown old over the years and we have watched J Pat and Karyn grow up and raise two boys on this fine ranch. Early on we felt welcome on the ranch and the whole family, Edmund, Margie, J Pat, and Karyn made us feel like we were staying in their home. The new camp lodge is awesome and very roomy for all. The pool table is a classic touch to the great room. The place is always clean.
Game is abundant and they will always find the right animal for us to harvest. They clean and process the game so we can then take it back home to be processed.
We are looking forward to the next 17 years!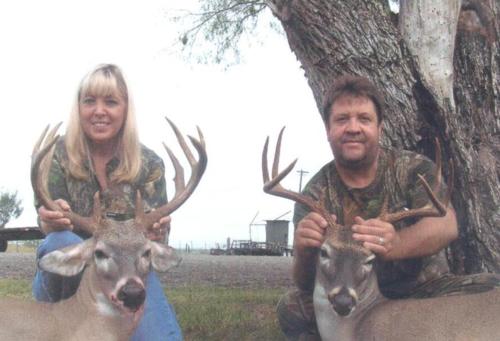 Kendall & Tammy Adams - Fitzgerald, Georgia
Our first trip to Edmund Tom Ranch was in 2004 and we have been back every year and plan to continue doing so as long as they will have us. We not only love to go to the ranch to see the very abundant and large whitetail bucks but we also are equally excited to see the Tom family. We have hunted whitetail all over the country and this is our favorite hunting lodge. If it's whitetail trophies you're after without that balloon note on the end when scored this is the place. Great atmosphere, awesome cooking, you will come home 10 lbs. heavier and missing Chicho (Edmund) and Marge's cooking. JPat and Kenton know their stuff when it comes to guiding for trophy bucks. This ranch has that great south Texas feel that leaves you longing to get back. We take some of our valued employees and family with us each year to share this wonderful experience as it's just too good not to share. Huge racks, awesome stands, excellent food, great lodging, perfect atmosphere, reasonably priced, well managed, In my book it just doesn't get any better than this!
Send Us A Comment
To our past clients: We appreciate your comments and if you would, fill out the form with comments and a photo about your experience at Tom Ranch. Fields marked with * are required. Please enter the Name field how you want your name to read on our website (Examples: John Doe, J. Doe, John D., John Doe Corporation).